NOTE: Mobile Devices may not show these two "dropdown" pages. Click link to go there.
Another tool for swimming students is an old favorite: books! Some are very good, others–not so much. They are all interesting in different ways, and some are very useful, and I hope my reviews help swimmers find the "good stuff".
This page has "general topic" and "historic" swimming books.  Learning to Swim and Advanced/Competition pages. Unless noted, all reviewed books are currently (2014) available from public libraries in San Diego and San Diego County.
Deep Water
by Don Schollander & Michael "Duke" Savage
(Crown Publishers, Inc. 1971) Reviewed July 3, 2014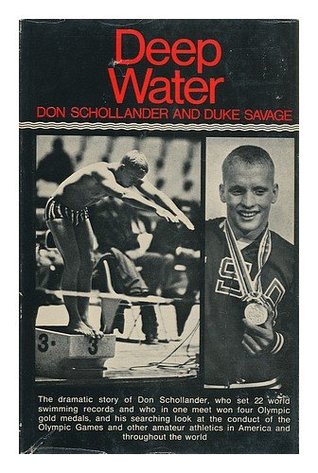 Don Schollander won 4 gold medals at the 1964 Tokyo Olympics, equaling the 4 golds  Jesse Owens won in 1936. But wait…there could have been more! We learn that Schollander would have likely won 5 golds, but due to team politics, he was not part of the 4x100m medley relay, even though he won the 100m freestyle. That win should have automatically put him on the team for the freestyle leg of the medley relay.
His Tokyo victories opened up a world that few athletes see, and even fewer write about it with the level of passion and candor Schollander has in Deep Water. This book is intense because it involves international (Cold War) politics, professionals versus amateurs, incompetence, and institutional in-fighting that nearly destroyed the Olympic Games in the 1960s, all of it taking place before Don was 20 years old!
A great deal of the book borders on "venting", but Schollander is intelligent and disciplined, and he makes his points well, because of his personal experience with the IOC (International Olympic Committee), the NCAA, the AAU, and with various national sports organizations around the world. If Schollander had not been a super-star, most people would have dismissed his observations as "sour grapes" from an also-ran.
He was upset by the hypocrisy that put U.S. Olympic athletes at a huge disadvantage, because almost all other major countries' teams had professional athletes that violated the rules of Olympic "amateurism." To make matters worse, control of the U.S. amateurs was contested between the NCAA and the AAU. The AAU controlled the Olympic team selection in several sports (finally ending when congress passed the Amateur Sports Act of 1978). At one point, each group banned athletes from the other's group. That is, NCAA track champions could not participate in AAU meets! It was a huge mess. Even worse, athletes were not allowed to receive any money for teaching, speaking, or endorsing products. A college swimmer couldn't work as a swim instructor during the summer, while payments to athletes in other countries were hot stories of the day. Puma and Adidas were paying track athletes by leaving cash in their shoes! Now it all sounds quaint: Today the line between amateurs and pros no longer taints the Olympics—but we have performance enhancing drugs to keep the playing field tilting and twisting.
This book is a must for scholars of sport! His sincerity and emotion jump from the pages. Entertaining stories balance out the politics. Schollander has great stories of routine psych-outs and "set-up" races on goodwill tours abroad. After the 1964 Olympics, Schollander was a moneymaker for the Olympic Committee, which sold his and others' images and appearances.  While in training for the 1968 Olympics, at the Santa Clara Swim Club, he swam 12,000 yard workouts with a whole new group of teammates, including Mark Spitz. This was an interesting time for both swimmers—the "old man" (Schollander, all of 22 years old) versus "the kid."
Four years later, Spitz won 7 golds, and when asked what this meant to him, he famously replied, "millions." Schollander had retired after the '68 games and became an advocate for his beliefs, becoming a member of the AAU Swimming Committee, The US Olympic Committee, and the President's Council on Physical Fitness and Sports. There is much to like about this book and I highly recommend it.
Inside Swimming
by Don Schollander & Joel H. Cohen
(Henry Regnery Company, 1974) Reviewed June, 2014
First, kudos to the San Diego Public Library for re-binding this book and keeping it in circulation!
Don Schollander was a swimming superstar of the 1960s. He was the first to break the 2 minute "barrier" in the 200 m. freestyle and won 4 gold medals in the 1964 Olympics. This instructional book focuses on several aspects of competitive swimming, but since it was published 40 years ago, there have been huge changes in competitive swimming, especially technique, so it is more of a historical snapshot than a guide for competitors today.
That said, there is a lot of interesting material here. It has the obligatory sections on the 4 competition strokes, starts, and turns, with decent line drawings of the techniques. Also, there are many "stories" and photos of competition where Schollander shares his thoughts on strategies and historic races.
At 89 pages, the book is brief, but it does include a glossary (Don says a "lap" as 2 lengths of the pool–YES!) and an index. Recommended for anyone interested in the history of world class swimming competition in the 1960s.
Two for the Youngsters: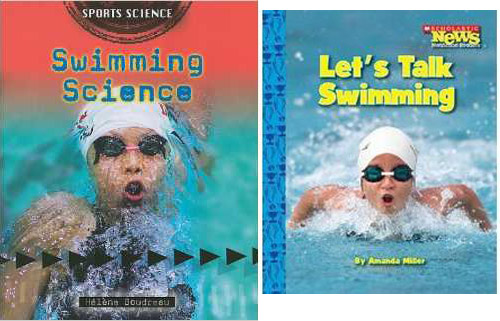 Swimming Science
by Helene Boudreau
(Crabtree Publishing, 2009) Reviewed April, 2014
This 30 page book has a variety of short articles connecting science and swimming.
The text looks appropriate for grades 4 and up. Topics include "pool science" and various aspects of the science of reducing drag. It is not an instructional book but it does do a pretty good job of combining a little science with other "factoids" and blurbs about famous swimmers, going back to Mark Spitz. Recommended for those interested in science and/or swimming.
Let's Talk Swimming
by Amanda Miller
(Children's Press, 2009) Reviewed April, 2014
The target audience for this 22 page reader is grades 1-2. It is for kids interested in swimming, but there are no instructional sections–just an overview of swimming with high quality photos. It's a good choice for beginning readers.
Off the Deep End
by W. Hodding Carter
(Algonquin Books of Chapel Hill, 2008) Reviewed Feb., 2014
W. Hodding Carter was an accomplished competitive swimmer as a collegian, but felt his "prime" years, his best chance for the Olympics, were lost while he served in the Peace Corps. He admits that although he was an adult, he gave in when his father insisted he go to the Peace Corps. Fast forward to 2004: Carter is 41, and he decides that he will train to qualify for the 2008 Olympics.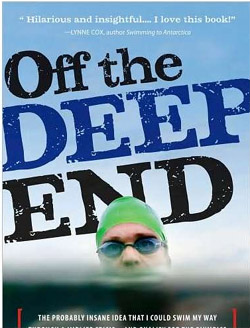 The book chronicles Carter's training and personal ups-and-downs. His obsession overshadows his family and professional life. He is a freelance writer and hopes the venture will pay off financially, via articles, endorsements, a book, and maybe even a movie. Despite his age, he rises to the top in Masters swimming, with times nearly identical to his college bests, but those times are now routine for collegians and high school hotshots–but not Olympian!
So what have we got here? This book has a melodramatic quality that will probably disappoint you, but it is a great look at "inside swimming" as Carter tries all sorts of training routines, swim camp, consulting with his college coach, all to shave off a few tenths of a second. In the most entertaining chapter, Carter recalls writing about Mark Spitz for Esquire in 1990. Spitz, was trying to make the Olympics at age 39.
Recommended as light reading, mostly for swimmers who are interested in the "culture of competition." If you're short on time, here's a TV interview from his book tour:
(Link to KOMO-TV Seattle interview)
Swim: Why we Love the Water
by Lynn Sherr
(Public Affairs, 2012) Reviewed Jan. 2014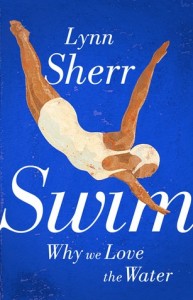 This book is an entertaining look at all aspects of swimming. Ms. Sherr began competing in open-water swimming as an adult. She intertwines personal anecdotes with the the history of swimming, "big" personalities, theories, gadgets, fads, and the cutting edge world of world-class swim training.
She does not get into details or instruction, but there are many references that you can use to explore further. There is a nice balance between text and pictures, and I found myself wishing the book was longer!
Highly recommended!