More book reviews…
Swimming Speed Secrets for Swimmers and Triathletes
(Orig. 2010 title: Call the Suit)
Sheila Taormina (Velo Press, 2012)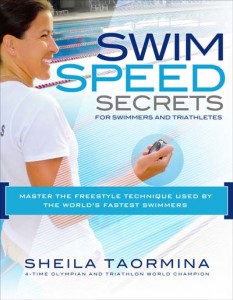 This book is one of the better guides for those who want to improve their freestyle (crawl) performance. The introduction pulled me in—a discussion of Johnny Weismuller, with quotes from his book, Swimming the American Crawl. Ms. Taormina transitions from "Tarzan" to offer clear illustrations and well-written text, taking things step-by-step, explaining:
stroke rates and stroke counts and their value in performance improvement
why technique is 80% of swimming (i.e., stronger does not mean faster)
basic physics (hydrodynamics) applied to swimming
strength drills (land based)
drills for refining one's "feel" for the water
basic terminology used in team workouts and suggested workouts
There is a section with stroke data for championship swimmers and a list of the top 20 developments since 1924, such as changes in pool construction and training methods. A detailed index makes quick-checks and reviews easy. Except for two glaring omissions, this is a one of the better books I have reviewed:
1. De-emphasis on Reducing Drag
In the chapter "The Vital Element" (arm pull), she has a weirdly dismissive attitude about methods for reducing resistance (drag):
"This is the part of swimming where we have been taught to think about body position and roll, head position, and any other technique that reduces resistance. While definitely important aspects of swimming, these techniques are purposefully neglected in this book. They are already being thoroughtly discussed, and with too much emphasis, elsewhere. They are such hot topics that they are smothering any discussion of what really makes a swimmer competitive—the pull underneath. (p.25)"
It has been my experience that a careful, periodic evaluation of technique usually reveals some flaws that increase drag and would be easy to remedy, provided the evaluator knows what to look for.
2. Triathletes may be disappointed.
There is no material on "open water" competition nor "triathalon" in the index, and the title implies otherwise. If this is your focus, check out Swim Smooth and Open Water Swimming (below), which have better coverage of open water swimming, including wetsuits, rounding buoys, and staying on course.
Despite the omissions mentioned above, I recommend this book for those who want to improve their performance by getting a better "feel for the water" and measuring their progress.
Open Water Swimming
Peggy Lee Dean
(Human Kinetics, 1998) Reviewed Sept., 2014

This book is intended for tri-athletes and open water swimmers who want to gain a competitive edge. Open water swimming, even in relatively calm waters requires a different technique than the strokes used in pool competition. Ms. Dean covers a wide variety of topics, including navigation, equipment, mental preparation, and race tactics. There are training plans and some technical diagrams illustrating the subtleties of stroke technique.
One mild criticism: The line drawings showing stroke technique are useful, but they are strictly side-views. Since stroke technique is a 3-dimensional pattern, omitting the front view is really a disservice to the swimmer who really wants to understand the ideal technique.
This book is recommended for open water swimmers.
Coaching Swimming Successfully
Dick Hannula
(Human Kinetics, 1995) Reviewed July, 2014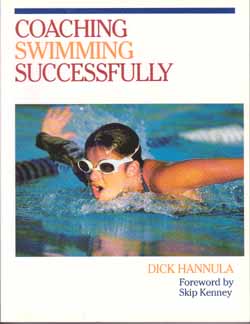 Mr. Hannula covers a lot of topics in the 150 pages of content. Besides the obligatory stroke instruction section (45 pp.), he covers some of the "intangibles" of coaching swimming, building from a philosophical base to implementation by planning the season, down to daily practices.
Most coaches would agree that keeping swimmers motivated and working hard throughout the season is not easy. Even experienced coaches will find useful tips on communication, discipline (!), preparing for meets, and evaluating the swimmers and the overall program. Motivational tips are sprinkled in with the "how-to" stroke mechanics and drills.
The diagrams and photos are adequate. There is a complete index. Each chapter has an itemized summary of the points covered. The one topic that is missing is the prevention (and treatment) of common swimming injuries. Otherwise, it does a good job of covering a wide range of subjects.
I recommend this book for both coaches and individuals who want to improve.
Complete Conditioning for Swimming
Dave Salo and Scott A. Riewald
(Human Kinetics, 2008) Reviewed July, 2014
(This book comes with a DVD, which was not reviewed, as it was missing from the library copy I reviewed.)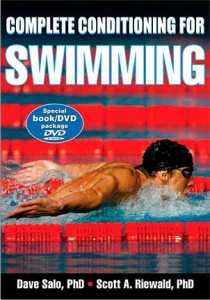 Whether you are a coach or a swimmer training on your own, this book is a good resource for a wide variety of exercises to increase your strength and endurance. In addition to exercises, both general and stroke specific, it has sections on injuries (prevention and treatment), nutrition and hydration principles, and a very interesting appendix that has race data (stroke rates, distance per stroke, etc.) from U.S. Olympic swimmers. There is a complete index and many charts to compliment the text and photos.
There is one problem that I found in the chapter on "Testing for Swimming Fitness."  In the test for rotator cuff strength, the "examiner" puts varying degrees of pressure on the swimmer's shoulder, attempting to "internally rotate the shoulder". The illustration doesn't explain exactly what the direction/motion the examiner should use. Then, they assign a number (0-5) to the results. However, the amount of pressure is not measurable (they only refer to the pressure levels as minimum, moderate or maximum).  Perhaps the DVD explains this more clearly, but the DVD was missing.
Overall, this is a good book that is worthy of a place on the shelf of coaches and swimmers that want to seriously train at a higher level.
Swimming Drills for Every Stroke
Robert J. Guzman
(Human Kinetics, 1998) Reviewed June, 2014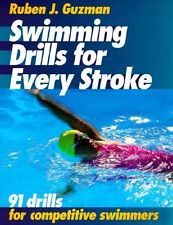 This book may be a good supplement to more general coaching books. It has 91 drills, organized by strokes, sculling, and racing turns. Some of the activities are land based. Most of the stroke drills (32 of 39) are done with fins. There are no conventional stroke sequence drawings, but the diagrams of drills are adequate.
Unfortunately, it also has one of the shortcomings that so many of these books seem to have: There is no index. In this case, it's not such a big deal because the book contents are pretty straightforward as listed in the table of contents. Nevertheless, it really seems lazy (unprofessional?) to not have some sort of index!
Also, in the section of sculling drills, the author mentions the lift principle that seems to proliferate the literature, despite sound evidence that our hands and arms do not act as propellers or hydrofoil (link to Post on this topic/controversy). In this case, it's not a big deal because there is no attempt to use vectors and diagrams to illustrate this idea. The sculling exercises are valid and useful.
My main reservation is the use of fins. My personal bias is against using them, but if you have no problem with fins, this book is recommended as a good source if you want to add variety to your workouts.
The Swim Coaching Bible
Edited by Dick Hannula & Nort Thornton
(Human Kinetics, 2001) Reviewed May, 2014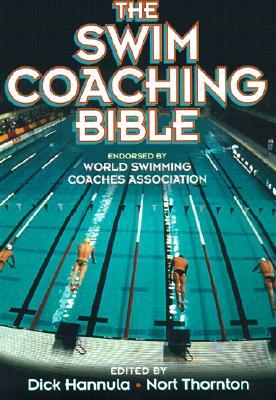 This book is a collaboration of several accomplished (i.e. Olympic) coaches and swimmers. There's a lot to like about this book, and a few things that are frustrating.
The Good
The scope of topics is what makes this book so useful to coaches, and not just a list of workouts and technique pointers. The best content is in the chapters on:
motivation and making swimming fun
physiology (i.e. tracking performance with time, pulse rates, stroke rates, etc.)
training programs that cover everything from daily workouts to a long-term yearly plans
Not so good
The stroke technique chapters are inconsistent. For freestyle, "stick figures" are used to illustrate technique.  They remind me of the animations on the Web before YouTube and full motion video became the norm. Photos or illustrations would be better.
The chapter on backstroke is very short (only 9 pages!), and it does not show a full stroke cycle sequence!
For butterfly and breast stroke, there are some illustration sequences, but they are not presented as clearly as in many other books available on competitive swimming.
In the freestyle section, they refer to a "thunder kick". I think I know what they mean, but I never found a good description of this because there is no index for approx. 340 pages of content! This is a major flaw for any "serious" book.
But hey, let's look at the positive: If you are involved in coaching swimming, I recommend this book as a good resource where the "good stuff" makes up for the "not so good".
Swimming Anatomy
by Ian McLeod
(Human Kinetics, 2010) Reviewed Feb. 2014
From the publisher's website (link to Human Kinetics):
"Swimming Anatomy will show you how to improve your performance by increasing muscle strength and optimizing the efficiency of every stroke."
McCleod attempts to connect the anatomy of swimming with a guide for strengthening specific muscles, to ultimately improve swimming performance (including racing starts and turns).  It's not a textbook, though correct anatomical terms are consistently used. So what's not to like? Why am I so disappointed? Answer: It's the missing parts.
I was hoping to see basic sequences for each stroke with the muscles noted for each stroke action (catch, pull, exit, recovery, etc.).  Then I could go straight to specific exercises to help with my freestyle.  But there are no such illustrations! Okay–maybe a list of muscles for each stroke would help. No, sorry—both the chapter names and the "Exercise Finder" is organized around BODY PARTS (e.g. arms, legs, etc.), not muscle groups for the 4 basic strokes. For stroke techniques, there are no sequential diagrams–only long paragraphs, such as this esoteric 598 word description of the freestyle!  (Link to text opens in new window).
An Incomplete Project!
For all the beautiful anatomical workout pictures, there is no information on setting up any sort of regimen. There is no guidance for sets, repetitions, or weights to use. Many of the exercise motions are unclear due to lack of sequential pictures. For this reason, I feel that this book may do more harm than good for anyone without a background in athletic training or physiology and kineseology.
Take the section for the basic push-up (p. 64):
"(step) 3. Lower your body until your chest is 1 inch off the ground."
Then page 65 has has a Safety Tip:
"Lowering the chest too far can cause extra stress on the anterior part of the shoulder. Those with a shoulder injury or a history of one should avoid this movement."
This is vague and confusing. Step 3 says your chest should be 1 inch from the ground. So what are we to make of the safety tip–what is "too far"? Is ¾ inch vs. 1 inch a problem?  The author could have done better—show the proper positions (head on and side view) for the push-up.  I believe most knowledgeable trainers will recommend you stop the downward motion at the 90 degree elbow bend. The touch-the-chest method is "old school macho." Here is a link to an excellent tutorial on push-ups. Exercises that use the full body weight as resistance are not simple. Warm-ups and proper technique are essential for injury-free performance.
Finally, there is no index or glossary! With the heavy use of anatomic and specific sports medicine terms, it can be daunting. For example, I was hoping to find some information specific to rotator cuff injury. There are references to the rotator cuff, but it takes some digging to find the true definition of this muscle group. The shoulder diagram doesn't even call this out. It's buried in the text. And there is no specific guidance on treating or preventing this common swimming injury.
To summarize, I feel Swimming Anatomy is appropriate ONLY for those with a solid sports science knowledge base. Without such training, you should consult other reliable sources on developing a workout routine, safely, without risk of injury.
Swimming Into the 21st Century
by Cecil M. Colwin
(Human Kinetics Publishers, 1992) Reviewed Feb. 2014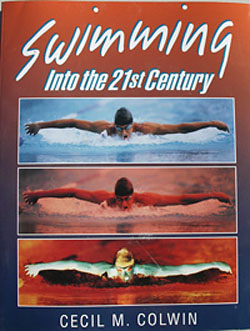 For coaches and athletes, this book may be dated, but it's still worth a look. Colwin goes into great depth in describing hydrodynamic principles and how they apply to swimming. The stroke techniques are broken down in great detail–to the position of fingers and how the stroke vortices should appear during the strokes! The illustrations are mostly line drawings and they are very well done. Training principles, methods and workout schedules are listed. He also devotes a chapter to research on training, nutrition, and technique.
To nicely balance the book, Colwin opens with a history of swimming titled "The Quest for Speed", and he discusses a wide range of topics such as training principles from track and field, and national swimming programs in the U.S. and Australia. The appendices have a detailed bibliography and training schedules used by some of the top swimmers and coaches of the day (e.g. Janet Evans).
I recommend you check out this book.
Swim for the Health of It
by Ernest Maglischo & Cath Ferguson Brennan
(Mayfield Publishing, 1985) Reviewed Feb. 2014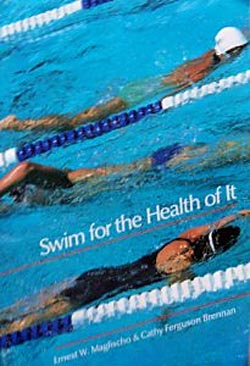 Another excellent book by Maglischo & friends, with the logical build from Part 1, a discussion of the benefits of swimming, to training principles and progress logs. They offer help with motivation and overcoming annoyances (e.g. sore shoulders). Part 2 covers stroke mechanics for the 4 competition strokes and others such as sidestroke and elementary backstroke. The photo sequences are very sharp and better than those in the later book, Swimming (1992-see below). Part 3 addresses training for triathletes.
No doubt, there are some new developments since 1985, but I recommend this book because it is dense with information, and you might see something that "makes a light go on" and your swimming improves just "for the health of it!"
Swimming
by David Costill, Ernest Maglischo, and Allen Richardson, M.D.
(Blackwell Science, 1992) Reviewed Jan. 2014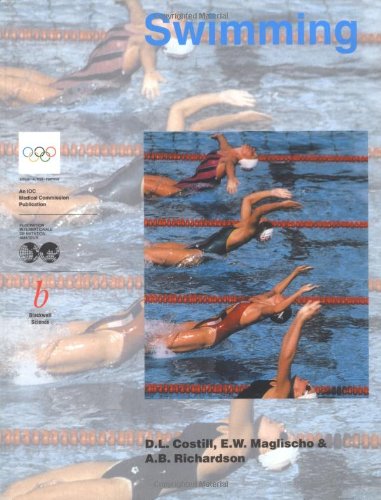 This is one of the best books I have reviewed. It presents the material in a logical, comprehensive manner, starting with the biology of swimming (energy, fatigue, muscle structure, and nutrition), moving on to the mechanical aspects (hydrodynamics and specific stroke techniques), training programs, and finally, the medical aspects of swimming (measuring and analyzing physiological factors).
There are many charts and the illustrations include line drawings and action photo sequences. Each chapter has an "Recommended Reading" section for those who want to dig deeper on a topic.
As with many of these books, the only problem is that there have been some swimming science discoveries since its 1992 publication–but nothing major.
This book is highly recommended for swimmers and coaches.
The Complete Book of Swimming
by Dr. Phillip Whitten
(Random House, 1994) Reviewed Dec. 2013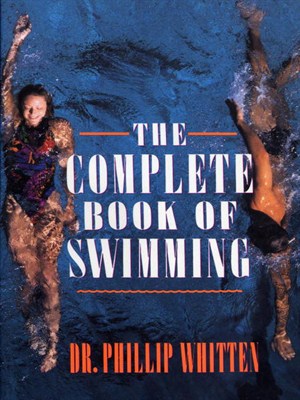 This book covers swimming with a broad brush, however it is not intended to be a "learn to swim" guide. Though the stroke techniques may vary slightly from today's, this book is a good read, with many clear line drawing illustrations of techniques. It is divided into 3 sections:
1. Swim for your life
This section has detailed information on the health benefits of swimming, including heart health, weight control, and cholesterol control.
2. Getting in the swim
The 4 competitive strokes, including racing turns are covered. This section will most benefit someone who can swim, but wants to improve their technique and understand how to swim most efficiently by reducing drag.
3. Becoming fit
Believe the author, and you may find an improvement in your love life when you swim regularly! An overview of masters and age-group competition includes various training programs and tips on pool ettiquette. Measurements such as stroke length and efficiency are illustrated. Equipment for training is discussed. Dr. Whitten is o.k. with hand paddles, but issues a mild caution on potential shoulder injuries that often occur when swimmers use paddles.
Appendices include:
Methods for calculating body fat and life expectancy
Records for Masters and age group swimming (17 pp.)
Training programs
Nutritional information on balancing carbs and protein with detailed tables for basic foods.
Recommended. I think this book is well worth your time—it has a lot of information, presented well.
The New Science of Swimming
by James E. Counsilman & Brian E. Counsilman
(Prentice Hall, 1994) Reviewed Dec. 2013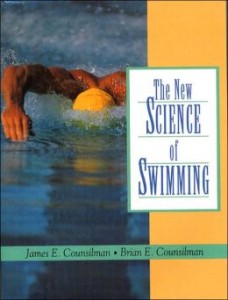 James "Doc" Counsilman was a pioneer in the use of objective studies of competitive swimming techniques. At Indiana University he coached 60 Olympians, most notably, Mark Spitz. Under Counsilman, Indiana won six consecutive NCAA Swimming & Diving Championships. This classic book has extensive information that has been condensed (vs. original research articles, etc.) into what can best be described as a textbook for coaches and competitors. Counsilman refused to entirely rely on conjecture or "eyewitness" analysis of swimming. He used film, measurement devices, and various "inventions" to test theories. Since Indiana had some of the world's best swimmers, his theories were tested with swimmers whose performance was at a peak, but were still looking to improve.
Since it is almost 20 years old, some of the information may be dated, but since it is data based, so you can search for newer research. Each chapter lists the original research used. This book covers the competitive strokes, the physics of swimming, physiology, racing skills (starts, turns), training theory, with example workouts and strength training, and more.
Counsilman boils down the research, so that we can understand it. For example, here are 3 important facts that help you understand how to swim efficiently and fast:
Drag: The drag (resistance) of your body in water increases with the SQUARE of the speed. E.G. if you increase your speed from 4 feet per second (fps) to 8 fps, the drag will be FOUR TIMES as great (compared to 4 fps). Due to this fact, when your arm enters the water, you shouldn't do it too quickly, as it will increase drag! Moving faster doesn't always result in swimming faster!
Arm speed: When a swimmer doubles his arm speed (without slipping, etc.), the propulsion will be FOUR TIMES greater. Sounds simple, eh? But look at the price you pay in terms of energy (no. 3, below).
Muscle energy: As the speed of muscle contraction doubles, the energy required is CUBED. That is, if you double your arm speed, it will require EIGHT TIMES as much energy.
There are ample photos, drawings, and charts that are useful, without reading the entire text.
I recommend this book, but it is priced as a "textbook", at around $100 (Link on Amazon).
Swim Smooth
by Paul Newsome and Adam Young
(Wiley Nautical, Copyright 2012) Reviewed Oct. 2013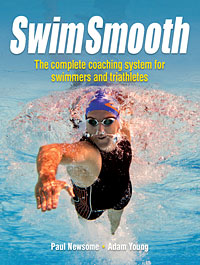 This is an excellent book for several reasons:
1. Illustrations are plentiful and very explanatory. They use a nice combination of illustrations and photos.
2. The "swim smooth" system addresses the differences in body types, personalities, and how they "show up" as various swimming styles, such as the muscular "Arnie".
3. It provides improvement tips for each of the various swim types.
4. It covers both pool and open water racing techniques.
5. It is easy to read — you can flip to most any page and pick up the topic easily.
6. There are many drills and training tips for serious competitors.
Go for it!
Highly recommended.
Total Immersion
by Terry Laughlin and John Delves
(Fireside, Copyright 2004) Reviewed Oct. 2013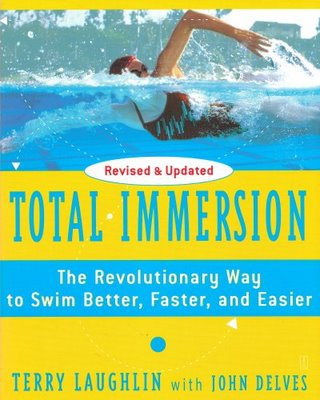 Another "system" book that has much in common with "Swim Smooth". But there are some important differences:
1. There are only a couple of illustrations in this 300+ page book! The text is engaging, but as they say, "a picture is worth 1000 words."
2. The Total Immersion system is really DOWN on training "devices", such as hand paddles, kickboards, leg floats, and fins. This is not a popular philosophy, but the author makes a good case for not using them. Since swimming is all about body awareness, control, and balance, the author feels that most drills using them will do more harm than good. For example, on kickboards (page 206):
"The flutter used on a kickboard–with arms, torso, and hips rigidly locked in place–is so different from the kick you'll use when swimming that kickboard sets have zero value for developing a kick that helps your body move efficiently through the water."
Pretty tough stuff. But this book will give you a fresh perspective on stroke technique and other aspects of swimming, such as fitness benefits and how best to plan workouts for burning fat (vs. carbs).
Recommended.